CasiOak Watches: The Ultimate in G-Shock Personalization
The name of "CasiOak" was the combination of Casio and Oak (Audemars Piguet Royal Oak).
In 2019, Casio release GA-2100 series. Its octagon design is similar with Royal Oak model from Audemars Piguet.
Hence, aftermarket watch modders had design a metal modification kit for the GA2100 series. With these mod kit, the look is more closer to AP Royal Oak.
In Hyperjam25, we stand on our mission to provide the best quality customization and best personalization to our customers.
More important, we believe that a solid built watch is a MUST to every watch collector. 
We had created few collections for CasiOak, which are Prime, Armour, Element, Lite, Colour and Lavish.
Each of the collection has their own special design to suit different taste of style for every customers.
In the same time, we are also working on different design and possible customization for our customers.
Furthermore, we also launched new collection which are CasiNaut and CasiOrlinski.
Every CasiOak was built with premium & solid parts :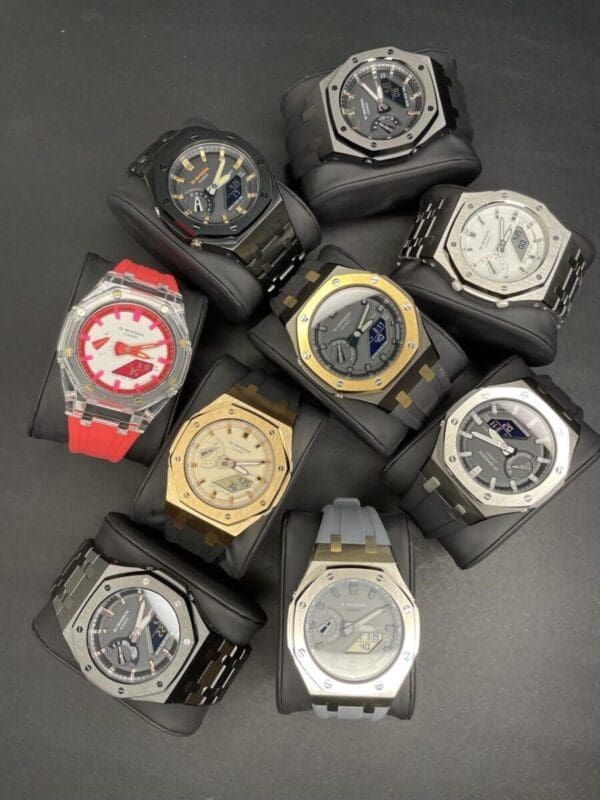 From very beginning, we evolved and improving for the future
Until 2023, starting from Instagram to our own online store, we had been customized over 250 models for our beloved customers. 
Customers were feeling excited while waiting their bespoke CasiOak to arrive to their door.
Glad that every customer is happy with our works because of the quality that we provided to them.
Some of them are even repeat order and make their own CasiOak Collection with our premium built models.
We welcome you to follow us on our Instagram: